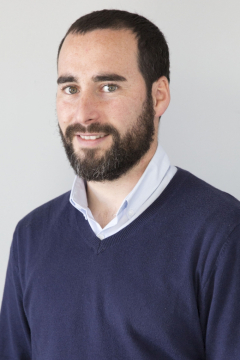 Senior Researcher
Academic category:
Associate Professor (Titular Universitari)
Research Division Prof. Juan Bisquert
Address:
Institute of Advanced Materials (INAM)
Universitat Jaume I
12006 Castelló
Spain
Researcher information:
Publications
2023
Journal of Materials Chemistry C,
2023,
127,
21338−21350.
Transient On/Off Photocurrent Response of Halide Perovskite Photodetectors.
APL Machine Learning ,
2023,
1,
036101.
Resistance transient dynamics in switchable perovskite memristors.
Neuromorphic Computing and Engineering,
2023,
3,
024005.
Long-term potentiation mechanism of biological postsynaptic activity in neuro-inspired halide perovskite memristors.
Synthetic Metals,
2023,
295,
117347.
Nanocomposition of PEDOT:PSS with metal phthalocyanines as promising hole transport layers for organic photovoltaics.
Solar Energy Materials & Solar Cells,
2023,
251,
112115.
Stabilizing perovskite solar cells with modified indium oxide electron transport layer.
2022
Solar RRL,
2022,
6,
2200737.
Blade‐Coating High‐Quality Formamidinium‐Cesium Lead Halide Perovskites with Green Solvent for Efficient and Stable Solar Cells.
The Journal of Physical Chemistry C,
2022,
126,
13560.
Transition from capacitive to inductive hysteresis: A neuron-style model to correlate I-V curves to impedances of metal halide perovskites.
Chemical Engineering Journal,
2022,
446,
137164.
High-performance large-area blade-coated perovskite solar cells with low ohmic loss for low lighting indoor applications.
ACS Energy Letters,
2022,
7,
3401–3414.
Assessing the Drawbacks and Benefits of Ion Migration in Lead Halide Perovskites.
Frontiers in Energy,
2022,
10,
914115.
Inductive and Capacitive Hysteresis of Halide Perovskite Solar Cells and Memristors Under Illumination.